First, let's understand what software as a service (SaaS) means. Software is licensed on a subscription model, for example, a per month fee. The software provider hosts the software in the cloud to then make it available via the internet.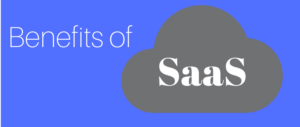 You have probably heard of the term cloud computing, and it is important to remember that SaaS and cloud computing go hand in hand. Cloud computing is providing IT services over the Internet. The services can include access to servers, storage, databases, networking, and in the case of SaaS, software, instead of accessing on a PC or a server in your office.
Benefits of software as a service
Providing software with this model has many benefits which include:
The software and data are available on any device at any time.
The is no capital expenditure. Costs can become more manageable operational expenses.
Save on hardware and IT costs such as hosting servers.
The software provider maintains updates. There are no additional costs for software upgrades.
Ability to scale up the number of users quickly.
You can increase collaboration and share easily.
APIs can integrate with ERP systems.
Most cloud providers offer better overall digital security than you can provide. Data is kept in the cloud, so there are no issues if a laptop is lost or stolen.
You get new features quicker with no need for updates.
Business demands including customer service for logistics and transportation require the best tools. Market Motion now offers the latest fleet management software on a SaaS model. Roadnet Anywhere combines the best fleet management capabilities — routing, dispatching, telematics, proof of delivery, and analytics to accomplish the perfect execution of a delivery.
As a SaaS, cloud platform, Roadnet Anywhere can offer these tools without the expensive setup and maintenance costs.