Outlook 2018, Omnitracs' fourth-annual user conference and the premier gathering of professionals in transportation and fleet management. Omnitracs Outlook takes place February 25 – 28, 2018 in Nashville, Tennessee at the Gaylord Opryland Resort & Convention Center.
The event in 2017 was a huge success and we have no doubt Outlook 2018 will be bigger and better than ever and leave you motivated to perform better with valuable sessions covering productivity, compliance, planning and delivery, safety and security, data and analytics, and training. Network with your peers, visit the Partner Pavilion & Solutions Center, and enjoy fun and engaging networking activities.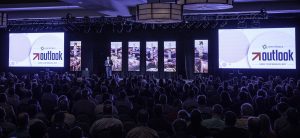 What will you get out of attending?
Over 70 sessions led by Omnitracs professionals, clients and partners that will cover compliance, productivity, planning & delivery, safety & security, data & analytics, and product training.
WHY ATTEND – Omnitracs Outlook Conference
Roadmap presentation
Omnitracs will present the Roadnet roadmap. Be the first to hear where the product is heading and what you can expect with new features and benefits.
Training
Join us for an immersive training experience. These training sessions will offer hands-on courses, take-home materials, and a chance to ask questions and get answers from subject matter experts. Partner with us at the UX design lab to provide input to the design of one of our applications and watch it change in real-time. Don't miss these interesting and educational sessions.
Productivity
Optimising productivity using your devices is critical to your long-term success. Also critical is the productivity of your drivers, office teams, vehicles and even your interactions with customers. The sessions in this track will help you better leverage your programs, systems and tools to gain, and keep your competitive advantage.
Planning and delivering
Gain knowledge on how to realise the perfect delivery with helpful tips on creating efficiencies in routing and dispatching. Discover new ways of reducing costs, saving time, and adapting to a rapidly changing landscape by combining proven best practices with innovative solutions like navigation, driver community, dynamic routing, and business insight.
Data & analytics
Whether you realise it or not, you are already in the world of Big Data. Your fleet generates thousands of data points at any given moment. The key is to leverage that data to improve safety and customer service, control costs, and retain drivers. Get tips on how to set up key performance indicators and use predictive analytics to improve your fleet operation.
Safety and security
Protecting your data, tracking your assets, defending against litigation, and coaching and rewarding safe driving behaviour. Learn the latest in both products and processes designed to keep your organization both physically, and fiscally, secure.
PLUS a range of networking events with the opportunity to meet some of the world's biggest names in fleet management.
A chance to connect and share best practices with hundreds of fleet management professionals
Keynote presentations covering the latest transportation and logistics industry trends
A Partner Pavilion and Solutions Center with technology providers that I can connect with to discuss our needs so we can work more efficiently
Hands-on demonstrations from Omnitracs and many other leading industry and technology providers
Up to ten hours of networking events allowing direct interaction with peers from other companies within our industry
Email Kylie Williams from Market Motion for more information or you can register directly on the Omnitracs Outlook 2018 website.